Chinese Emotional Support Hotline Volunteer – Jing Chen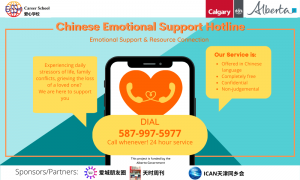 Looking back now, I can say with confidence that Jing lives up to my first impression of her: a strong, capable, and reliable woman.
Jing Chen and her family immigrated to Canada 18 years ago. Upon their initial arrival to Canada, Jing and her family worked many different jobs including at a dry cleaning store. Most people would assume this was solely due to financial reasons but for Jing it was primarily to integrate into Canadian society as quickly as she could. As if that wasn't difficult enough, she went on to obtain a Bachelor's degree after completing highschool courses, LINC, and an early childhood development program. In 2017, Jing learned about ECSSEN's bread project through a friend and became a volunteer. Today, Jing is the volunteer coordinator for many projects of ECSSEN. Not only is she the senior coordinator for the bread project, she's also responsible for 15 coordinators and hundreds of volunteers located in Calgary, Edmonton, Airdrie, and Lethbridge.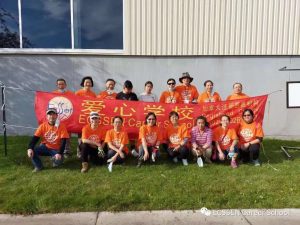 One of Jing's first jobs in Canada was being the receptionist at an oil and gas company. She laughs now but said she could barely understand anything when she had to answer the phone and thought she would be fired at the end of the day. Instead of giving up, she pushed through and to her surprise, her supervisor praised her for her resiliency and encouraged her, even promising to then train her for the next week. Jing stayed at that company for 9 years, eventually being promoted to project manager from a mere receptionist and credits it to her mindset.
As a seasoned immigrant, Jing gave me some very solid advice for new immigrants. She believes there are three ways for new immigrants to quickly integrate into society while improving their English. Firstly, the federal government provides many free language programs such as LINC, and many colleges and universities such as Bow Valley, SAIT, Mount Royal University, and University of Calgary provide an assortment of programs to choose from.
Secondly, she believes it's crucial to be employed regardless of how it relates to your previous education/work experience as this will further improve English skills and pave the way to make new friends. Even if this means the income is not as much as you hope for, it's still a building block for your future. Through this initial job, it will be increasingly easy to find better jobs down the road and by then you'll be better integrated into Canadian society.
Lastly, Jing reiterates the benefits of volunteering and how it provides a feeling of fulfillment and the positive impacts for both the volunteer and the community. As Jing mentioned, there are many volunteers (for both the bread project and the hotline project) who are just like her and all have a passion to give back. In fact, most volunteers excel in their workplace and many are highly successful leaders or entrepreneurs.
Before I let her go, she made sure to tell me that ultimately you must have a positive attitude no matter your circumstance. Language might be the biggest barrier for immigrants but hard work, determination, and gratitude will help you through anything. Since she quit her job in 2019, Jing's focus is mainly on her family and helping her community. Now, she is a loving wife and proud mother of 3 teenage kids who fully support her active volunteerism and even participate with her when they can.
ECSSEN Career School has a multitude of volunteer stories similar to Jing's. Through the Loving Heart Bread project and the Chinese Emotional Support Hotline we continue to provide support for those in need. If you or anyone you know is in need, or wish to volunteer with us, please contact us at 587-997-5977. We are also accepting new volunteers
The Chinese Emotional Support hotline is supported by a group of volunteers who have stories like Andy. If you and your friends and relatives around you want to talk and need resources, please call the hotline 587-997-5977. In addition, the hotline recruits volunteers and supervisors throughout the year. If you are interested, please copy the link below to sign up or scan the code to sign up through the poster below:
https://forms.gle/HVGG6zgB2CuZXYpS8
Please also have a reference form complete your reference in addition to the application: https://forms.gle/Xg6GvgaKJ26NUVYN7
The volunteer coordinator will arrange for you to participate in the training as soon as possible.