Chinese Emotional Support Hotline Volunteer – Super Stars of the Month February

It's the once-a-month volunteer interview. This month, the hotline has selected three volunteers. Yan, Yu Xu and Edward Wu.
Yan worked in an administrative office in China. She has been in Canada for around 9 years. She has re-studied social work and obtained a social worker registration license. Now she works in a non-profit organization that provides services for adults with mental disabilities. . Yan really likes her current job. Yan also likes to volunteer very much. In addition to being the supervisor of the Chinese emotional hotline, she is also volunteering at the YMCA Fitness Center, Calgary Senior Resources Society and Samaritan Club. She is excited to use her professional social work knowledge to help those in need.
Yan's full-time job takes up most of the day, occasionally involving weekends, and she spends nine hours a week on the emotional hotline, 2 or 4 hours volunteering at the fitness center, and from time to time,  she  volunteers to serve the elderly in Calgary, which makes her weekly time full. But time is like water in a sponge. On weekends or in her spare time, she will go to the antique store, collect some beautiful bone china, play with some good flowers and plants, tidy up the backyard and front yard, and chat with friends. Make her more satisfied with her current life.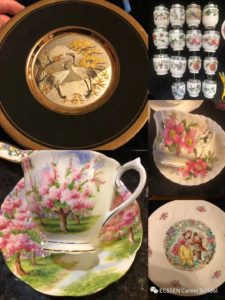 Yan said: Life is not smooth sailing. When encountering difficulties, she recommends everyone to maintain an optimistic attitude to view and deal with them. At the same time, maintain empathy. Thinking from the perspective of the other party will also play a positive role in dealing with problems. effect.
Yan has joined the team since the establishment of the Chinese Emotional Hotline, and has witnessed and personally experienced its growth step by step. Now the operation of this team is becoming more and more mature, providing more help for the Chinese, so that we Chinese not only have a platform for emotional catharsis in a foreign country thousands of miles away, but also provide more resources to help the Chinese.
For the future, Yan still likes to continue working in the field of human service, continue to improve her professional knowledge and skills, take her work to a higher level, use her knowledge and skills to help vulnerable groups, and speak for them is her constant desire. For friends who have expectations in the future, Yan thinks career planning is a very important step. Before taking action, consult friends in the same field to gain an understanding and conditions of the work, analyze your own shortcomings, make plans according to the short, medium and long term, and Continuous adjustment and revision in practice, hard work and persistence, will eventually achieve the goal.
Due to the introverted character of the Chinese, the avoidance of mental health care in the traditional culture, and the non-English native language, many Chinese people digest themselves internally when they encounter spiritual troubles, and are trapped in the English language. Communication barriers, and there is little awareness to seek psychological counseling and help from external agencies. The opening of the Chinese emotional hotline has filled this gap. At the same time, with the progress of society and the popularization of knowledge about mental health, more and more Chinese are gradually consciously seeking help, which is also reflected in the more and more calls we receive. I hope our hotline can help more people, let more people know about this approach, improve everyone's mental health, and have a better life and work.

The second volunteer star in February is Xu Yu. Xu Yu is from Chengdu, Sichuan. He came to Canada around 2002. It's been almost 20 years, and I've been living in Toronto before. Moved to Fort McMurray in early 2014 and lived there for about 3 years. Moved to Calgary in late 2017. At the time, I liked Calgary because I heard that Banff was very beautiful, so I wanted to come here to see it.
Regarding self-care, Xu Yu feels that he may not be too demanding. For many things to be able to live on the line! On the contrary, it is a more happy optimist! If there is something unsatisfactory, he will choose to go with the flow! Xu Yu thinks that he may be lucky. When he encounters difficulties in life, he solves it without knowing why.
Xu Yu has met many people who helped him in his life. Many of these people are impossible for him to meet again, all he can do is to help other people to thank those people for their help to him! In 2016, Xu Yu lived in Fort McMurray. When the fire came, he met many different people and helped him go to Victoria, BC, to seek refuge. Later, he also had no chance to meet those who helped him out of the slump. Now Xu Yu hopes to do his best to be a volunteer and give back to the society.
As for the trouble-shooting hotline, Xu Yu felt that we could focus on helping from food. Starting from the needs of various Chinese families, we will use various professionals in the volunteer group to provide help and advice to new immigrant individuals or families. For example, some Chinese family students need tutoring help or employment counseling, and new immigrant families need government policy help. The hotline can give full play to the old immigrants' understanding of Canada, so that more compatriots can better integrate into the local society!
Xu Yu is still reading Linc's English. He feels that only by learning more knowledge can he better integrate into the society, and he does not have many requirements for himself in the future. Just do your best every day! Xu Yu I am glad that he has become a volunteer star, and he will continue to work hard to make better results to give back to everyone for their recognition and help!
The third volunteer I want to introduce to you is Edward Wu. He is 40 years old and has worked in 10 different industries, whether physical or mental, technology or sales. His life has gone through many twists and turns, and he compares himself to "walking through the dark abyss, stopping to stare at the abyss". He once thought he was a hopelessly terrible person, but he was miraculously enlightened and spiritually reborn. He hopes that through the hotline, he can help those in need, and light the way ahead of them with the weak but firm light in his heart.
Edward achieves self-care primarily through exercise and writing. Exercise can regulate his bad mood, and writing can help him clear his mind. When encountering difficulties, Edward will gather various resources, dig deep into the root of the problem, constantly warn and encourage himself not to escape or give up, and formulate corresponding measures to challenge or solve the problem as much as possible.
Edward's advice for the hotline is to hope that "food distribution and emotional hotlines are separate, dial '1' and '2' under the main number to go to the corresponding service".
Edward hopes to start a company that he can devote his entire life to as soon as possible. He believes that life cannot be smooth sailing for a person who pursues excellence. But as long as you persist and don't give up, opportunities may appear at the turning point.
The Troubleshooting Hotline is composed of volunteers with different life experiences like Yan, Xu Yu and Edward. If you are interested in joining us, please scan the poster below to register.
The Chinese Emotional Support Hotline is supported by a group of volunteers from different backgrounds like Nathalie, Mandy, Zhao Yu and Sally. If you, like the volunteers, want to contribute a little to the Chinese community, you are welcome to join us.