Chinese Emotional Support Hotline Volunteer – Super Stars of the Month July

 Li Luo and her husband came to Canada from Shanxi, China in 2005, and graduated from Columbi a College, majoring in Human Services. Currently working as an education assistant for the Calgary City Board of Education, she is a mother of two children.
Li Luo's youngest son has severe autism. He is very unable to adapt to life during the epidemic, so the life of the whole family is also facing great challenges. During the epidemic, Li Luo paid attention to the opening of the Chinese Emotional Support hotline from Ecssen Career School. She felt that this service would bring a lot of convenience to the Chinese in Alberta, so she signed up and hoped that she could also contribute to the Chinese community.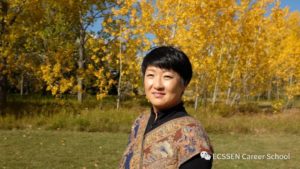 Li Luo felt that sometimes Chinese people are still more resistant to and guarded against the topic of mental and mental health. But in fact, the mind, like the body, needs regular maintenance. Negative emotions need to be expressed to prevent them from accumulating and becoming mental illness.
Li Luo said that the new Covid-19 pandemic has brought unimaginable disasters to people. The economic situation, the way we work and study, the way we socialize, and our daily lives have changed like never before. For Chinese people living in Canada, they often face unwarranted racial discrimination and prejudice. These experiences bring not only mental stress, but also psychological distress. The Chinese Emotional Support Hotline provides a very good platform for Chinese health and mental health services in the Chinese-speaking community in Alberta. While receiving more community services, Chinese people can also pay attention to the mental health of ourselves and those around us.
When asked what could be improved on the hotline, Li Luo said: Due to her son's condition, she usually pays more attention to information about children and families with special disabilities, but she did not find any relevant information in the hotline's information database. Calgary also has a WeChat group for children with special disabilities and families. She also received information about parental consultation during her hotline duty. She thought that if she hadn't been on duty, other volunteers would not have known this information. How can this information be updated in a timely manner so that other volunteers can know it in time? Hope the hotline has an efficient and fast route. Regarding Luo Li's suggestion, the author has already fed back the information to the hotline management department. The hotline management team attached great importance to her valuable suggestions. The volunteer coordinator got in touch with Luo Li in time and added the information she provided to the resource database. .
Before the epidemic, I seldom thought about the importance of self-care, but after the epidemic, Li Luo  will communicate more with her family and friends through the Internet, and also increase some activities that can relax her body and mind, such as going outdoors Hiking in the park, or going to the aromatherapy spa with friends, etc.
For friends who want to join the hotline volunteers, Li Luo said that during the volunteer training, the trainer mentioned that the Chinese Emotional Support Hotline is to provide emotional support and psychological counseling for the Chinese, and sometimes even carry out some effective psychological crisis intervention. Please don't be hesitated because of these seemingly difficult words. The hotline can not only provide professional training for everyone, but in the process of answering the hotline, she feels that what most people need is someone to listen and accompany them. If you usually help your friends and listen to their worries and concerns, the hotline now provides you with such an opportunity to serve the entire Chinese community. Our volunteer team is also a very loving family. We look forward to you join!