Chinese Emotional Support Hotline Volunteer – Super Stars of the Month October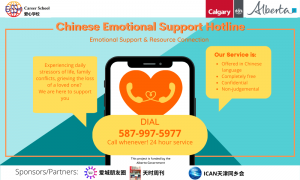 Zoe was born and raised in Chongqing, China and lived in Beijing for 17 years before coming to Canada. After graduating from Beijing Normal University with a Bachelor's degree in Social Work and Renmin University of China with a Master's degree in Social Work, she worked in marketing for an oil company. Four years ago, due to her husband's job, her family immigrated to Canada, and her family of four lives in Calgary. Zoe has always wanted to have the opportunity to work in her field. After she arrived in Canada, she applied for graduate studies in Psychological Counseling in Yorkville University. Now she is finishing her studies and preparing for her internship. She loves counselling and is looking forward to a future career in this field!
Zoe joined the Helpline team in April 2021 when it was first opened, and because of her major, she works as a supervisor directly in the team. She finds her work for the hotline is very meaningful, not only can she apply the professional knowledge she has learned in practice, but also allows her to gain valuable experience in the practical work. Through the hotline, she can gradually promote and advocate for the Chinese community to pay attention to mental health, improve self-awareness and live happily. This is the most important thing for her.
Due to cultural traditions and education, the Chinese group feels mental health is not so important. Many people have misconceptions about psychological counseling and emotional guidance. They believe that it is a sign of weakness if they have a need for it, and revealing their true (negative) inner thoughts to outsiders will bring shame to themselves and even their whole family. In fact, mental health distress is very common. At some point in our lives, we all experience times when we are mentally disturbed, or when a friend around us is disturbed. If you are suffering from mental health problems, seeking professional help is the right thing to do. When we come to Canada, we all have to deal with cultural integration to some degree. Taking mental health seriously is also a very important part of cultural integration and has positive implications for the new immigrant community and their offspring.
Since she started studying counselling, Zoe has been more conscious of introducing Self-Care into her daily life. She often follows the app to do some deep breathing and aerobic exercises, although she is not so persistent. For Zoe, Self-Care is usually about doing fun things with her family, talking to friends, and sometimes even it can be a crazy online shopping and watching her  favorite movies while eating junk food. In fact, Self-Care can be anything, even doing housework, as long as it makes one feel happy, successful and self-loving while doing it.
Zoe has watched the hotline grow step by step and knows the hard work of the leadership team and the perseverance of the volunteers. The current operation and management collaboration of the hotline is  impeccable. Her personal advice to the hotline is to increase publicity and promotion among the Chinese community and to raise awareness of mental health among the Chinese community through collaboration with other organizations.
The Chinese Emotional Support Hotline is made up of empathetic volunteers like Zoe. If you would like to join the Support Hotline family, please scan the code below to apply. If you are experiencing a problem and would like to talk to someone, please call the hotline at 587-997-5977.