Chinese Emotional Support Hotline Volunteer – Xu Jia Yuan (Andy Xu)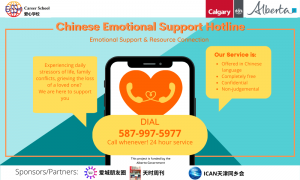 This is the second time I have met Andy, the first time was during his interview for the night shift listener position. He was promoted from a listener volunteer of the hotline to a supervisor of the hotline in just a few months, and then got an independent job opportunity as a night shift listener staff member.
Andy is a senior in Criminal Justice at Mount Royal University. I asked him how he usually handles negative emotions after answering the calls on our hotline – to which, Andy replied that the problems encountered by the hotline and the various criminals he learns about in his studies do not trouble him. His longest call on our hotline was two and a half hours, and although it was tiring, he felt that he was able to help the Chinese community which brings him satisfaction and enrichment to his life during the pandemic. 
Andy usually loves to keep his body and mind healthy through reading and exercise. He started learning Speed ​​Skating at the age of four and has won national championships in Calgary, Alberta and even Canada. He was originally going to enter the national team to participate in world-class competitions. Unfortunately, he dislocated his lumbar spine during muscle training when he was sixteen, so he could no longer participate in the competition.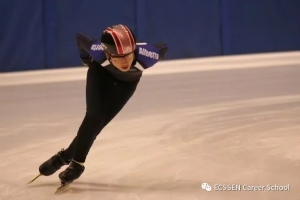 The first impression Andy gave me was that he was a very sunny boy. After chatting with him, I realized that he also had his own rebellious period.  Andy was 12 years old when he immigrated to Canada with his parents. Soon after arriving, his father, who was an engineer in China, returned because he was not used to life in Canada. After that, his parents divorced. This has had a great impact on Andy's life, because his father has always been helping him with his schoolwork. In addition, his parents' divorce also had a negative impact on Andy's mental state. Because his father stopped helping him with schoolwork, his little communication with his parents, and his phase of adolescence, Andy's grades dropped many times. This led him to repeat high school for a year before entering university.
When asked why he chose to study criminology, Andy said that he originally wanted to study engineering, but he didn't dare to choose science because he lost his father's help. As a result, he finally chose criminology. However, after entering this major, an honourable person met and helped Andy, who felt defeated at the time, to stand back up. He changed from a student who was about to be kicked out of the school to a good student now on a scholarship. His professor is a great defense lawyer and the deputy mayor of Chestermere. Andy is the only Chinese in the class. Perhaps the professor saw his self-defeating state at the time, and often called him to the office to patiently edit his papers and talk to him. Andy said that this defense attorney with an hourly salary of 800 Canadian dollars put his time selflessly on him. This made him very grateful and want to work hard to become stronger.
It is precisely because of the help that he has received that Andy also wants to help more people through his own efforts. He said that there are no good people and bad people in this world, only good environments and bad environments. There are many criminals who grow in environments that are shaped poorly. Andy wants to become a policeman in the future. He hopes to use what he has learned to change criminals into people who can be integrated into society.
I learned a lot from Andy's story. As another volunteer on the hotline, I hope that I can also be a person who can actually help the caller. As a member of society, I also hope to give back and be a guide for others like a teacher.
The Chinese Emotional Support hotline is supported by a group of volunteers who have stories like Andy. If you and your friends and relatives around you want to talk and need resources, please call the hotline 587-997-5977. In addition, the hotline recruits volunteers and supervisors throughout the year. If you are interested, please copy the link below to sign up or scan the code to sign up through the poster below:
https://forms.gle/HVGG6zgB2CuZXYpS8
Please also have a reference form complete your reference in addition to the application: https://forms.gle/Xg6GvgaKJ26NUVYN7
The volunteer coordinator will arrange for you to participate in the training as soon as possible.