Free Webinar Dec 18th Saturday – Sleep Hygiene (睡眠卫生与健康)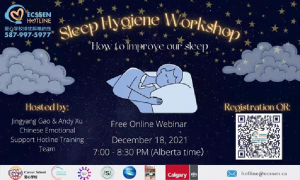 Time: Saturday, December 18, 2021 from 7:00 – 8:30 PM (Alberta time – MST)
Topic list:
Sleep-related statistics

Importance of sleep

Sleep cycle

How can sleep deprivation affect our brain, emotions and feelings

Various types of sleep disorders

Factors that affect sleep

Methods to improve sleep

Foods that help sleep

Resources for insomnia

Books recommendation
Zoom:
Registration: https://zoom.us/webinar/register/WN_S88lPfMvRXm9Vkt9no97kQ
Direct meeting link: https://zoom.us/w/92056165848
Meeting ID = 920 5616 5848
Registration QR code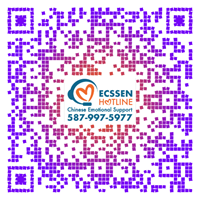 *Registration & webinars are free.
Are you suffering from insomnia? Are you experiencing fatigue or mood changes due to lack of sleep? 
Sleeping too late, waking up too early, waking up frequently at night… these are not just the problems of the seniors. Young people and even children are suffering from sleep disorders as well. Sleep deprivation can not only affect our memory, thinking, behavior and emotions but also cause short-term or long-term damage to our health.
In this webinar, we will explain why sleep is important for our mental health and share practical tips to improve our sleep quality and increase our life satisfaction.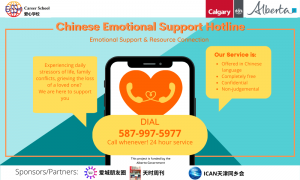 Our hotline training professionals, Jingyang Gao and Andy Xu will host this webinar. Jingyang got her Master of Educational Psychology degree from the University of Alberta. Jingyang's interests and passion motivated her to study and work in multiple fields. She found that sleep quality is closely related to psychological problems. Emotional distress reduces sleep quality. Correspondingly, sleep deprivation will further worsen the mood. Andy currently studies fields including criminal psychology and human–computer interaction at Mount Royal University. . Besides, Andy has 12 years of professional experience in short track speed skating. Andy's sports career has given him good sleep habits and also makes him notice the effects of sleep on his daily performance. Andy thinks that sleep deprivation can harm our immune system and is the cause of many diseases.
Jingyang and Andy will talk about the sleep cycle, the importance of sleep, factors that affect sleep and practical approaches to improve sleep quality, and etc. In addition, they will also share with us some helpful resources and books related to this topic.
This webinar is part of our Chinese Emotional Support Hotline presentation series, with the purpose of improving the Chinese community's wellbeing and mental health through providing free educational seminars raising awareness on the resources available to support you.
At the end of the webinar, two participants will be selected for $10 Amazon gift cards.