Hotline Webinar #20 – Responding to Crisis Situations(危机应对)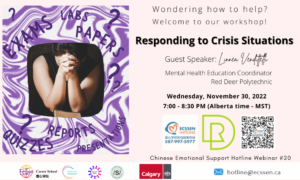 Time: Wednesday, November 30, 2022, from 7:00 – 8:30 PM (Alberta time – MST)
Zoom:

Registration: https://zoom.us/webinar/register/WN_LF6HUeHgQDKw_poL6vLlOA
Direct meeting link: https://zoom.us/w/91529281114
Meeting ID = 915 2928 1114
Registration QR code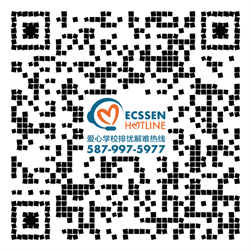 *Registration & webinars are free.
The holiday season is coming, so are the exams… Have you got an overwhelmed student at home or are you answering calls on our hotline from stressed students? Are you wondering how to support but not really sure about where to start and what the best way is? Please join our workshop and Linnea has all the answers! 
Outline of workshop:
Tuning into the need for help

The foundations of helping: listening & attending:

Helping as a process

Crisis response

Crisis referrals.
We are pleased to have Linnea Vendittelli as our guest speaker on this topic. As the Mental Health Education Coordinator, Counselling Services, Division of Student Success at Red Deer Polytechnic, Linnea is an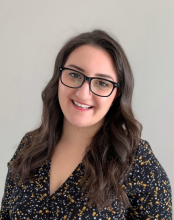 ambassador and advocate for mental health and wellness. She strives to educate and inspire others to create a supportive and collaborative environment. Linnea is a strong facilitator in mental health literacy programs, such as the MHCC's Mental Health First Aid and The Inquiring Mind, LivingWorks SafeTALK, and Alberta Health Services' Community Helpers Program. Linnea has a Bachelor of Health Science, Biomedical major and Psychology minor, and experience working and volunteering with mental health groups in Canada. Linnea seeks opportunities to combine her passion and knowledge to have a positive impact on individuals. When Linnea is not at work, she can be found creating greeting cards in her side-gig Card Construction or with her adorable puppy, Moxie!
This webinar is part of our Chinese Emotional Support Hotline presentation series, with the purpose of improving the Chinese community's wellbeing and mental health through providing free educational seminars raising awareness on the resources available to support you.