Hotline Webinar #28 – Mental health and wellness support for patients with chronic diseases or cancer(浅谈慢性病和癌症病人心理需求及相关资源)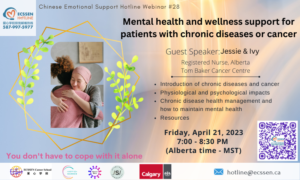 Time: Friday, April 21, 2023, from 7:00 – 8:30 PM (Alberta time – MST)
Zoom:
Registration: https://zoom.us/webinar/register/WN__8ig2lknQCWKyg_JZQnETg
Direct meeting link: https://zoom.us/w/95646038323
Meeting ID = 956 4603 8323
Registration QR code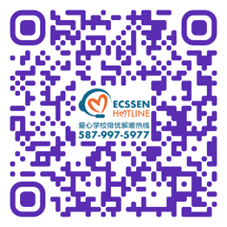 *Registration & webinars are free.
Outline of webinar:
— Introduction of chronic diseases and cancer
— Physiological and psychological impacts
— Chronic disease health management and how to maintain mental health
— Resources
We are pleased to have Jessie and Ivy as our guest speaker on this topic. Jessie and Ivy both have over 15 years of experience in related area and know very well about the needs of patients and their families, and supporting resources and procedures.  Jessie is a registered nurse in Alberta. She started to work in the hematology wards in 2008 and joined Tom Baker Cancer Centre (TBCC) in 2011. Jessie has done clinical work in chemotherapy, hematology/blood cancer and solid tumor clinics, and she is mainly in charge of diagnosis/triage of new cases of blood cancer now. Ivy used a geophysical engineer. She came to Canada in 2003 and studied in a Nursing program before she started working as a nurse in 2008. Ivy has extensive experience in kidney transplant/renal failure, chemotherapy, radiotherapy, solid tumor and hematology clinics.
This webinar is part of our Chinese Emotional Support Hotline presentation series, with the purpose of improving the Chinese community's wellbeing and mental health through providing free educational seminars raising awareness on the resources available to support you.