Free Webinar Dec 9th Thursday – How to build resilience for our children under the pandemic?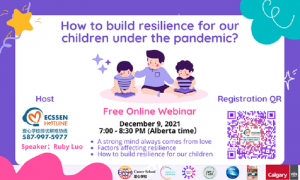 Time: Thursday, December 9, 2021, 7:00 – 8:30 PM (Alberta time – MST)
Topic list:
A strong mind always comes from love
Factors affecting resilience
How to build resilience for our children
Zoom:
Registration: https://zoom.us/webinar/register/WN_VtRi5ZXJT1uDMOfkgmis4A
Direct meeting link: https://zoom.us/w/94870789359
Meeting ID = 948 7078 9359
Registration QR code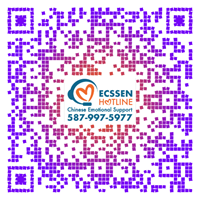 *Registration & webinars are free.
COVID has significantly influenced our lives in the past three years. Not only adults, but also children have been affected by the changes at school and limitations to get together with friends and classmates. What shall we do to help our kiddos? Please come and join the next webinar hosted by our hotline. Ruby Luo, mother of students at Harvard University, will share experience with you about how to build resilience for children, especially under the pandemic.
Ruby has got her Master of Arts degree in Counselling Psychology from the Providence University College and she is also a Certified Professional Counsellor at PACCP (the Professional Association of Christian Counsellors and Psychotherapists). Ruby is always an advocate and a practitioner of "Unconditional love". Ruby has many years of experience in counselling, and she has also guided many families to come over their difficulties in the parent-child relationships, as the developer and lecturer in series of parent-child communication courses. Ruby is also a lecturer of mental health courses at Calgary Family Services, and used to work as a counsellor at CIWA (Calgary Immigrant Women's Association).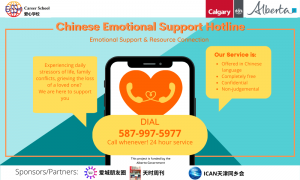 Parenting is always one of the hottest topic among Chinese parents and it is essential for a healthy family relationship. As Chinese parents, we always hope that world is all cupcakes and rainbows for our children and we always try our best to protect them. However, we all know that frustration exists and it is an important part of life no matter what. Therefore, building resilience for children is crucial and it can help our children to deal with negative emotions and make them stronger and more willing to face challenges. In this month's webinar, Ruby will talk about how to build resilience for children, especially under the pandemic. Love is the secret to building a strong mind. This webinar is part of our Chinese Emotional Support Hotline presentation series, with the purpose of improving the Chinese community's wellbeing and mental health through providing free educational seminars raising awareness on the resources available to support you.
At the end of the webinar, two participants will be selected for $10 Amazon gift cards.