Calgary Stampede with a Chinese Flair July 10th 2022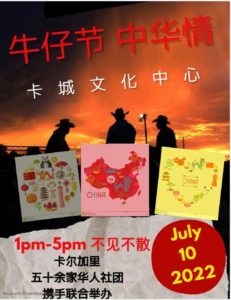 In July, the city of Calgary will have its annual Stampede Festival. On this event, more than 50 associations in the Chinese community will hold a large-scale theatrical performance with the theme of "Stampede  with a Chinese Flair". The City Stampede event adds a touch of beautiful Chinese elements!
The purpose of the event is to promote Canadian multiculturalism, enrich the cultural life of the Calgary community, encourage Chinese people to actively integrate into society, and at the same time spread Chinese excellent culture to the world in the most popular way; more importantly, with the help of this event platform, overseas the hearts of the descendants of Yan and Huang are closely linked, fully demonstrating and enhancing the attractiveness and influence of the Chinese people and associations, and making positive contributions to the promotion of China-Canada friendly cooperation!
The performances mainly include: Qipao Chinese dress show; guzheng music instrument performance; China's multi-dynasty and multi-ethnic costume show, showing the peerless
 elegance of women in the Han and Tang Dynasties; Chinese minority dances, the mighty Mongolian robes and beautiful Uyghur red skirts bring a rich Western Regions customs; Chinese martial arts performances; folk music performances; Peking Opera; Line dance and so on.
At that time, there will also be free Chinese style burgers and drinks for everyone to taste.
Event Location :  Calgary Chinese Culture Centre
Address:  197 1 St SW, Calgary, AB T2P 4M4
Time:  July 10 2022, 1pm-5pm