Chinese Emotional Support Hotline Volunteer – Super Stars of the Month September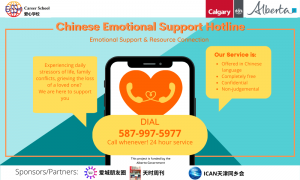 This month Chinese Emotional Support Hotline has nominated four volunteer stars. Two Supervisors, Christina and Lang Lang, and two Listeners, Amy and Olivia.
Currently, Christina is taking care of the children at home most of the time. After having babies, she experienced minor baby blues, but she was lucky to have the support and love from her family. She recovered quickly. For Christina, mental health is probably more like the ability to do her best to feel happiness and sadness; it means to be able to feel happy and to pass that happiness to others around her.
Christina believes that the way to improve mental health varies from person to person. For herself: First, she must learn to love and care for herself, take care of her mental health. If she finds that her mental condition is not good and it is difficult to improve it by will, she must contact her family doctor or psychologist for professional help in time, as some mental health problems must be improved with the help of medication and psychotherapy. Secondly, learn to accept, appreciate and affirm yourself, and don't be stingy with your praise and compliments to yourself. When we have self-confidence from the inside out, we may not care too much about the words from outside world, so we can take care of our spiritual home better.
Langlang is one of the hotline's volunteer supervisors and also a new immigrant in Canada. She has her own anxiety about integrating into society and finding meaning when she first arrived. However, through participating in the hotline's volunteer training and formal work, she has met many new friends and found her own meaning in this warm Chinese family, and she hopes to improve herself by participating in more hotline activities and learning more in the future, so she can help others more and better. She had friends with emotional problems and tried to help them, but because she didn't have appropriate communication skills the results were not always perfect. She benefited from the communication skills training a lot.
Langlang feels that mental health means being able to have a happy life, to see problems in a positive attitude and to have the ability to overcome difficulties. She feels that mental health can be improved by talking to people (engaging with the community, being in the circle), practicing mindfulness (meditation, etc., but also through religious beliefs), and finding higher spiritual meaning (giving, volunteering, doing meaningful work, etc.).
Amy came to the Canadian oil city of Calgary from Victory Oilfield in late 2016. She has two master's degrees, one in applied chemistry from China University of Petroleum (East China) in 2000 and another in chemical engineering from the University of Calgary. She completed the latter one in 2020. Amy used to work as a drilling fluid engineer in China and now is looking for a job. She likes reading history, biographies and literature books, and she has become interested in psychology books recently. She believes that a mentally healthy person should have a positive mindset. This person should seek solutions to problems and be able to look at the world with a tolerant mindset. One should not only towards family and friends, but also towards oneself, not demanding perfection in everything.
Amy believes that in order to improve one's mental health, one must first face up to the stresses or setbacks in life directly. Because life is not always as it should be, everyone will experience a variety of hardships. We should have a normal attitude to face the problems encountered, we should not feel the end of the world when encountering problems, complain this or that; at the same time, we should allow ourselves to have emotional outbursts. Without causing serious consequences, we need to give ourselves the opportunity to release pressure or emotions; then we also need a positive attitude to face if we find that you can't solve the problem, we can seek help from our family members and friends or relevant institutions for help actively. They can help us to get out of the bad mood quickly. Finally, we should have enough time to experience our feelings, think about our own experience, learn and grow from it, and find the right way to control or channel our emotions.
Amy believes that in order to be mentally healthy, you should also develop some good habits or interests, such as reading, sports, music, etc., which can enrich your life and give you a place to put your emotions.
Originally from Beijing, Olivia has worked in state-owned enterprises for 20 years and has been in Canada for three years. She says everyone, whether they are elderly, teenagers or even children, has emotional health issues and most people are not aware of their problems. A healthy spirit is one that can control whose temper and demeanour in any situation. His behavior is positive and his manner is proactive. He doesn't use intense and negative words; he doesn't speak aggressive and insulting language; he does not interpret society or others negatively; he knows how to forgive; he has empathy and does not use evil to fight with evil; he will protect himself in the right and appropriate way; and he is willing to give help to others as well as accept reasonable help.
Olivia says, "There are many ways to improve one's mental health, such as a regular work schedule, adequate sleep, a nutritious and moderate diet; physical activity, fitness, relaxation in nature, social activities, finding a group of people with the same interests, setting goals for oneself, taking courses or training that will improve one's You are welcome to call the Mandarin Helpline, which will provide effective information resources for those in need."
The Chinese Emotional Support Hotline is made up of empathetic volunteers like Christina, Lang Lang, Amy and Olivia. If you would like to join the Support Hotline family, please scan the code below to apply. If you are experiencing a problem and would like to talk to someone, please call the hotline at 587-997-5977.